Retail Store temporarily closed due to Covid 19​

We can ship supplies to you please contact us through email
Vancouver's Family Bead Store Since 1986
Make your own jewelry in our store! No experience necessary. Start with a little tour of our wide selection of beautiful, high quality beads. Grab a design tray, lay out your favorites, and put them on a durable string. We'll quickly secure the ends so you can wear your happy memory for years to come.
Already make jewelry? Our customers are welcome to use our tools free of charge. Sit down at the table and enjoy the atmosphere as you work, we would love to see what you are making. ​​
We love families!  Kids make the most artistic creations, and many people raised in Vancouver tell us about their fond memories of making bead accessories in our shop as a child.  If your group needs some extra special attention, or if more than 4 people want to string beads, please phone us in advance (604 682 2323) to be sure the table is available. We offer an all-you-can-make Beading Party (see description below) where parents can leave everything to us and enjoy the rest of Granville Island.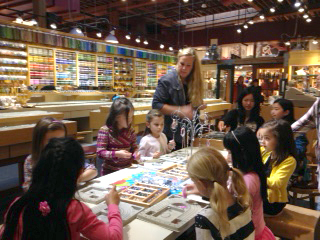 Kids' (Birthday) Beading Parties

$35 (all supplies incl.) per child, 1.5 hours party
 
Please pre-register in store or call

604 682 2323
$70 deposit required at booking, most parties run between 12 and 3 on Saturdays & Sundays. We book a time that works best for you. Minimum 3 and Maximum 10 party goers.
Kids (ages 6-12) choose from our beautiful Kids' Collection, and make as much jewelry as they can, all wrapped up in a lovely jewelry bag to take  home with them. Projects include:

               - necklaces
- dangly earrings (for pierced ears or clip on)
- ...and more! What can you imagine?
​
Adults can party with beads too! Take a look at our

classes

page, and choose a project that suits your crew.

Contact us

and  we will reply  with a quote for a set price for each student that includes supplies. A maxium of 10 adults can fit at our table.